Geology Club
The purpose of the Geology Club at Midland College is to provide an informal environment for students and faculty to discuss geologic topics, promote interaction, and expand opportunities for learning and experience through field trips and guest speakers.

Silent Auction Fundraiser

Now through Wednesday, April 25th

We have many treasures to offer, including a stunning core lamp, ammonites, agates, feldspars, and many other lovelies that need to come home with you!
All are welcome to bid. Please come to the Abell-Hanger Science Faculty (AHSF) Building to view the bid items, in the display case, between Rooms 152 and 153.
When you find what you can't live without, go to Room 147, just down the hall, to place your bids in our official Bid Book between 8 am and 1 pm, Monday – Friday.
Be sure to put a phone number or email address next to your name.
Come by Room 147 before May 1st, to pay for the items you won.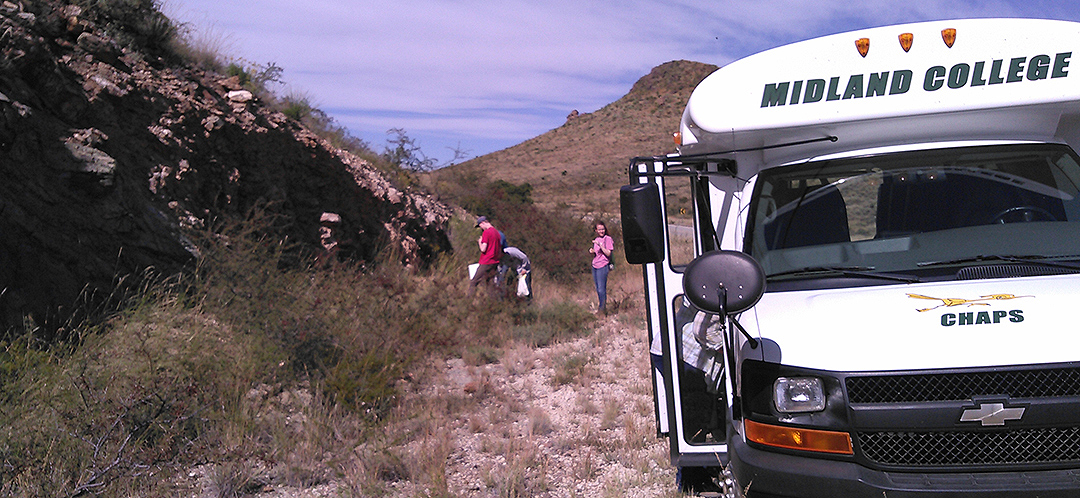 Activities
Upcoming Trips
October 28, 2017 (Saturday) – One-day field trip
November 17 – 19, 2017 (Friday to Sunday) – Big Bend National Park field trip
Rules & Regulations
All participants should wear sturdy footwear - boots preferably but absolutely NO sandals


Be prepared for a variety of weather


All participants will be respectful to trip leaders and other participants
What to Bring
Long sleeve shirt/long pants
Hat
Sunscreen
Water (One gallon per person)
Snacks/lunch
Sturdy shoes/boots
Notepad/pencils
Insect repellent
Bordering Mexico, on the Rio Grande River
Elevation ranges from 1,800 to 8,000 feet
Canyons, desert, forested mountains

At 311,000 acres, largest state park in Texas
238 miles of multi-use trails
70 miles of un-maintained roads for high-clearance, 4-wheel drive vehicles
Deep canyons, river lowlands, steep mountains
Been occupied off and on for 12,000 years
Chihuahuan Desert Bike Fest on every February

Has three different ecosystems
One of the best exposures of fossil reef
Guadalupe Peak is the tallest mountain in Texas

Second largest canyon in the USA
30 miles of trails
Campsites with water and electricity, primitive drive-up sites, equestrian trails

Cavern tours
Nightly bat flights (May-October)
Rattlesnake Springs oasis
Over 50 miles of back-country trails

Pink (Town Mountain) Granite Batholith, 640 acres and 425 feet in elevation
Result of Llano Uplift (Precambrian)

A natural history preserve overseen by the Museum of Texas Tech University
Evidence of Paleo-Indians, and Pleistocene animals
Ongoing archaeological and paleontological digs

Dinosaur trackways found in and around Paluxy River 20 miles of trails, including equestrian trails



Has official bison herd of Texas started by Charles Goodnight
13 trails, with six along the trailway (old railroad) in the rugged canyons
Clarity Tunnel (742-foot long) houses Mexican Free Tail Bats


Apply to MC Now
Thank you for choosing Midland College! If you are here to collect a few credits, take courses to transfer, or here to start a new career, we welcome you.