McCormick Gallery
Established in 1971, the McCormick Gallery is located on the beautiful campus of Midland College in the Allison Fine Arts Building. A resource for both the school and the community, it is a popular venue on campus for a wide variety of functions in addition to a full schedule of art exhibitions.
Hours

Monday - Thursday, 8 am - 9 pm
Friday, 8 am - 5 pm
Saturday - Sunday, Closed

Location

Allison Fine Arts Building

Midland College

3600 N. Garfield

Midland, TX 79705

(432) 685-4653

MAP
Fall 2023 Exhibit
Silverton Powerhouse Art Guild Exhibition
August 21 – September 29
Reception
Thursday, September 14, 6 - 7:30 pm
Open to the public at no charge
The Midland College Art Department invites you to view the works of the Silverton Powerhouse Art Guild. The exhibit is displayed through September 29 in the Allison Fine Arts Building McCormick Gallery. Gallery hours are 8 am - 9 pm, Monday through Friday and 8 am - 5 pm on Friday.
Opening reception is Thursday, September 14, 6 - 7:30 pm.
The Silverton Powerhouse Art Guild is an eclectic group of artists who's mutual purpose is the aesthetic, educational and cultural betterment of the surrounding community. Operating out of Silverton's historic powerhouse building in the iconic San Juan Mountain Range, the Powerhouse Art guild represents a creative presence that offers a variety of unique content--not just active ceramics production from occupant members, but academically immersive opportunities for local inhabitants, such as pottery master classes and regular resident guest artists.
The Powerhouse Art Guild seeks to further the positive creative trajectory that is intent on making Silverton, Colorado even more of an artistic, cultural destination.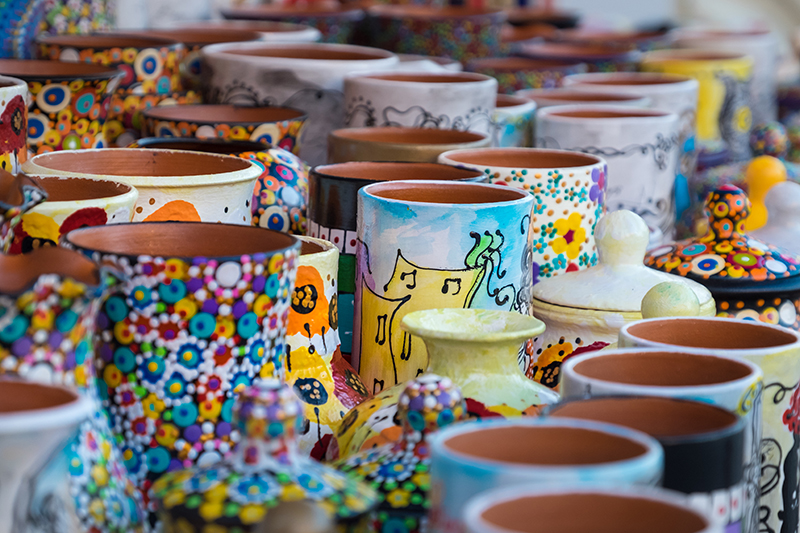 ABOUT THE POWERHOUSE
The Silverton Powerhouse was built in 1906 as a first-of-its-kind, centralized power station for mines across the San Juan Mountains. Using hydroelectric power generated by the Animas River in Rockwood Canyon, the Powerhouse was the transfer station that supplied mines from Silverton and Telluride to Ouray with reliable power.
After the Sunnyside Mine closed in 1991, the Powerhouse was abandoned and suffered damage. In 2001, the Silverton Historical Society received grant funding to bring the Powerhouse back to life, and it was repaired brick by brick. Scotty Bob's Ski Factory moved into the Powerhouse, starting the movement of bringing modern businesses into the Powerhouse.
In February of 2022, Hannah Green, a Silverton, Colorado local, expeditionary, runner, photographer and writer dreamed of turning the once-again vacant Powerhouse into a lively, community space for the artists and makers of Silverton. Hannah signed the lease in 2021 and has created a team of local visionaries and makers -- Anne Chase, Julian Hood, Hillary Cable and Emily Thorn -- who have pulled the building up by its bootstraps and turned it into a usable space for artists and for community events, such as live music, fat-tire bike races, chili cook-offs, and art workshops.
The potential of the Powerhouse as a community maker space and venue is astounding. The Silverton community backs the vision to continue improving the building to better support studio space and expand the quality and types of events that the space can host. The Silverton Powerhouse still needs help to get there, but can become a healthy business that is committed to the betterment of the Silverton, Colorado community and economy.
The vision behind this project comes from the age-old saying, "See a need, fill a need." The Powerhouse is a very special space with a great mission. The Powerhouse enhances Silverton's accessibility to a creative space that fosters engagement and creativity. It is an undeniable asset for this small-town community.
Mission
The McCormick Gallery is dedicated to providing educational experiences for our students and a cultural haven for the Midland Community. Our mission is to exhibit exciting works of contemporary art from a variety of artists. A diversity of visual art mediums is represented as we attempt to make contemporary art accessible and enjoyable to all members of our community. During their visit, featured artists frequently give lectures, critiques, and demonstrations which offer unique insights into the artistic process. Each year we feature group and solo exhibitions, including the annual Midland Arts Association Fall Juried Art Exhibition as well as our Spring and Fall Student Art Show which celebrates the creative endeavors of Midland College students enrolled in studio art classes.
Dagan Sherman
Art Department Chair
Gallery Contact

Dagan Sherman
Art Department Chair
Allison Fine Arts Building, Room 191
(432) 685-4653
dsherman@midland.edu
Apply to MC Now
Thank you for choosing Midland College! If you are here to collect a few credits, take courses to transfer, or here to start a new career, we welcome you.