School supply drive helps homeless youth in MidlandSeptember 07, 2018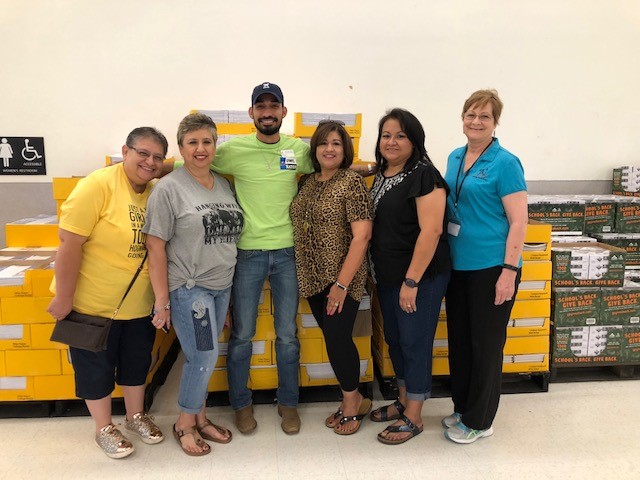 On August 24, 2018, members of the Permian Basin Area Health Education Center (AHEC) and Communities in Schools met at the Walmart Supercenter on Midland Drive to pick up school clothes, school supplies and hygiene items for homeless students and to distribute these items to students in need. Elisa Williford, director of the Permian Basin AHEC Center and Hilda Sanchez, program coordinator for Communities in Schools helped direct this effort.
The Permian Basin AHEC is hosted by Midland College and is a service of Texas Tech University Health Sciences Center – Office of Rural & Community Health. The mission of the organization is to address the health care provider shortage and improve the health care access in the Permian Basin and Concho Valley through education and development of the health care workforce. Over 100 homeless youth were identified as in need of school supplies in Midland.
Pictured at left: Judy Rivera, Hilda Sanchez, Michael Alva, Mary Valdez, Christy Leal with Communities in Schools and Kathy Johnston, Community Liaison, Permian Basin AHEC, Midland College.
MC Public Information Office

The Public Information Office is responsible for the overall development of messages that help promote Midland College. This includes preparing and distributing news releases, news advisories and public service announcements for radio, television, newspapers and social media.

Allison Fine Arts Building, Room 141

Midland College, 3600 N. Garfield

Midland, Texas 79705

(432) 685-4556

Welcome

Midland College has many programs and options for our students. If you are investigating the opportunities we offer, our Welcome Center is the perfect place to receive general information.