$5 Pink Hair Extensions by Midland College Cosmetology Students Benefit Breast Cancer AwarenessOctober 22, 2021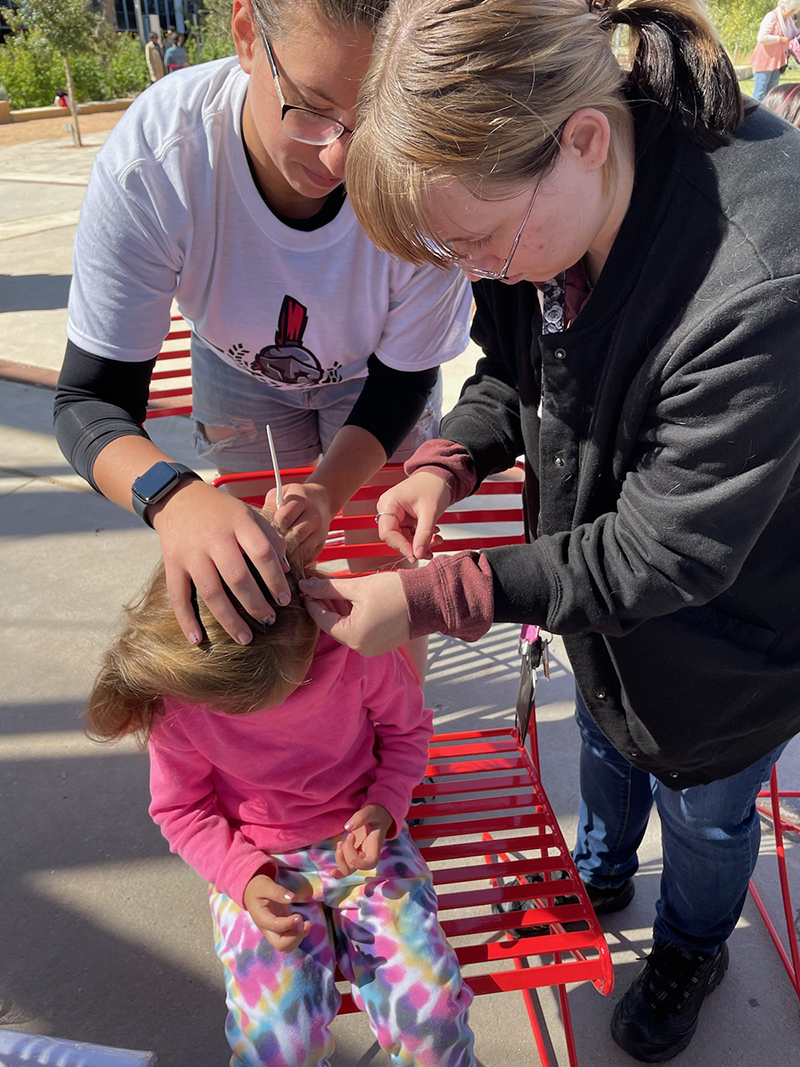 October is Breast Cancer Awareness Month, 31 days dedicated to all those who have lost the fight and to those who are in the middle of the fight. Be part of the cure and show your support with a pink hair extension. Midland College (MC) Cosmetology students are offering $5 temporary pink hair extensions the whole month of October. All ages are welcome. Proceeds will be donated to Pink the Basin and Gifts of Hope. So far, students have raised more than $675.
Extensions are available Tuesdays and Thursday from 9:00 a.m.-5:00 p.m. and Mondays and Wednesdays by appointment. To make an appointment call (432) 685-6723. Please note this is a cash only service. The MC Cosmetology Lab is located on the main Midland College campus in the Technology Center. The salon entrance is located on the west side of the breezeway between the Technology Center and Helen L. Greathouse Child Care Center.
MC Cosmetology students donate their time, skills, and talent to put the extensions in hair. MC students, employees, and the public wear the extensions for several weeks to draw awareness to breast cancer prevention.
"We have been doing these pink hair extensions for several years," Michael Fields, MC Cosmetology program chair said. "It is always a popular service. As cosmetology instructors we strive to instill a sense of volunteerism in our students. When our students complete their training programs and earn licenses, volunteering and philanthropy are a vital part of giving back to the community that supports their business."
The Cosmetology Program at MC offers students the ability to be licensed within a year.
Midland College is certified by the Texas Department of Licensing and Regulations as a cosmetology training provider. The curriculum is designed to prepare students for successful completion of the Texas Cosmetology Operator licensure examination.
With an on-site salon environment, students receive hands-on training while serving members of the community. To schedule an appointment with a student stylist call (432) 685-6723. Visit here for pricing and services. The salon is open on Tuesdays and Thursdays from 9 a.m. – 5 p.m. Discounts are available for MC employees and students.
Pink the Basin supports women taking charge of their health through community awareness, education, and service initiatives. They provide women in the Permian Basin with access and funding for mammography services, diagnostics, and prostheses.
Gifts of Hope's mission is to provide services that support cancer patients mentally and emotionally, physically, and financially. Its purpose is to help ease the burden of cancer while providing hope. Gifts of Hope operates Hope House, a home away from home for patients to stay during their treatment. Gifts of Hope not only provides free lodging, but also assists cancer patients with medical & dental bills, transportation, and other necessary support during cancer treatments.
MC Office of Institutional Advancement

Pevehouse Administration Building, Room 141

Midland College, 3600 N. Garfield

Midland, Texas 79705

(432) 685-4556

Welcome

Midland College has many programs and options for our students. If you are investigating the opportunities we offer, our Welcome Center is the perfect place to receive general information.