Midland College selects Alum of the YearMarch 01, 2019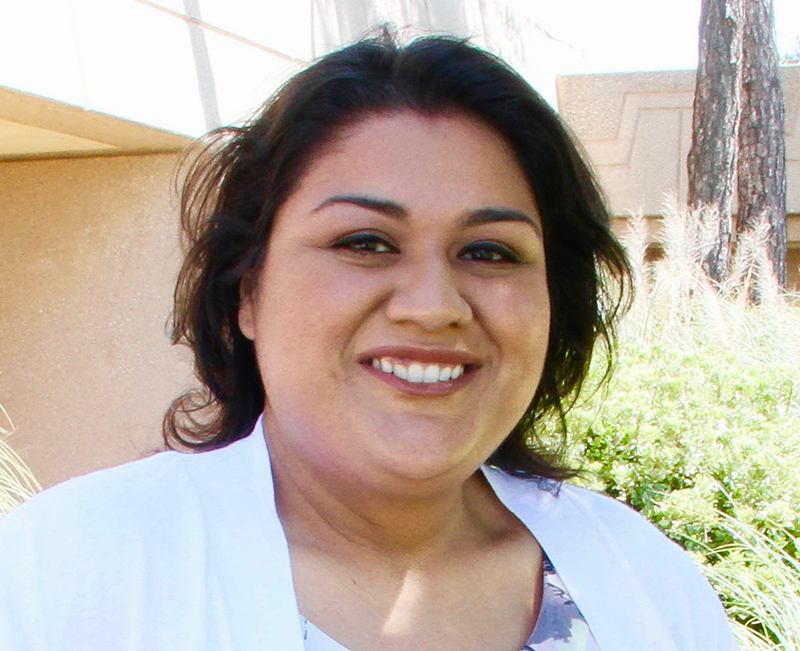 During half-time of the February 28, 2019 Midland College (MC) Homecoming basketball game, MC President Dr. Steve Thomas presented Irma Bueno with the Alum of the Year Award.
A first-generation college student, Bueno began her Midland College career taking dual credit classes at Midland High School. Upon high school graduation, she became a recipient of the Bill Pace Cogdell Scholarship (as well as being eligible for the Legacy Scholarship) and continued her education with Midland College. As an active member of MC Students in Philanthropy, Bueno volunteered with several nonprofit organizations. Other volunteer work included assisting at Helping Hands of Midland and Keep Midland Beautiful. As a Cogdell Scholar, she was also a reliable and eager volunteer, completing additional hours of community service.
After earning an Associate of Science degree in General Studies from MC in May of 2010, Bueno transferred to the University of Texas of the Permian Basin (UTPB) where she pursued a bachelor's degree in Social Work. While a student at UTPB, Bueno served as an officer in the Social Work Club as well as volunteering for Keep Odessa Beautiful, coordinating for the Social Work Club to adopt a piece of land near UTPB to clean at the annual cleanup.
After graduating from UTPB, Bueno went to work for Communities In Schools (CIS) as a Campus Coordinator at Lee High School supporting at-risk students to stay in school, graduate and move into higher education or employment. In that role, Bueno partnered with Be the Change of Midland to have clean ups at Lee High School and coordinated other community service events for students.
Bueno also worked with Golf Course Road Church of Christ to start "1 TO 1" tutoring at Lee High School, which began as a CIS program and is now a program of Educate Midland. Under this program, Bueno helped students earn hours for peer tutoring every Tuesday in the Lee High School Library. She also recruited community members to tutor as well. She attended every Tuesday to encourage her students.
Today, Bueno works as an outreach coordinator for Midland College and promotes Midland College and higher education in general to high school students and to the community. An excellent role model for other first-generation college students, Bueno's friendly and helpful nature helps her connect with students. She loves this role because it allows her to give back to MC and to the community.
MC Public Information Office

The Public Information Office is responsible for the overall development of messages that help promote Midland College. This includes preparing and distributing news releases, news advisories and public service announcements for radio, television, newspapers and social media.

Allison Fine Arts Building, Room 141

Midland College, 3600 N. Garfield

Midland, Texas 79705

(432) 685-4556

Welcome

Midland College has many programs and options for our students. If you are investigating the opportunities we offer, our Welcome Center is the perfect place to receive general information.