Bill Pace Cogdell Learning Center and Scholarship Changing LivesFebruary 01, 2019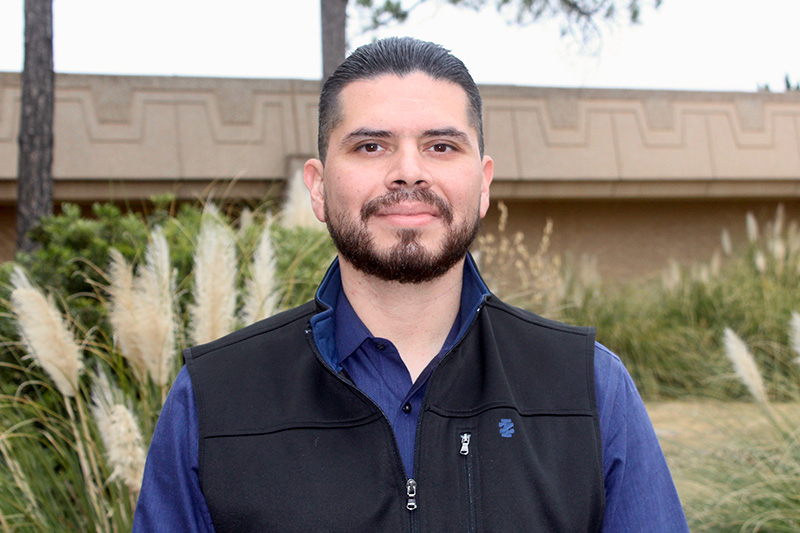 When Antonio Garcia IV graduated from high school, he immediately started looking for scholarships to pay for college.
"A mailed flyer from Midland College (MC) outlined the requirements for the Bill Pace Cogdell Scholarship, and it caught my eye," said Garcia. "I worked on the application immediately, and I received the scholarship."
The Bill Pace Cogdell Scholarship and Cogdell Learning Center at MC was made possible through the generosity of local businessman Bill Pace Cogdell. The scholarship pays for in-state tuition, fees and books for MC students.
"The scholarship took a lot of stress off my family and me," said Garcia. "Just looking at the price of college textbooks was a shock; each book is so expensive. When I told my Dad I got the scholarship and it would pay for everything, he was very happy and proud of me."
The Cogdell Learning Center is celebrating its 25th anniversary this year. For 25 years, Mr. Pace's vision of helping residents of South and East Midland pursue a college education has become an essential part of the community. Garcia also received assistance for applying to college from the Cogdell Learning Center.
"I was new to the whole college thing so I contacted the Cogdell Learning Center for help," said Garcia. "They guided me in picking classes and setting my schedule."
One of the additional advantages of the Bill Pace Cogdell Scholarship is that it continues as long as the student is enrolled and meets guidelines.
"Receiving this scholarship helped me completely change the way I studied," said Garcia. "It made me work harder, and I had good grades to show for it. The teachers at MC also pushed me. My first year, a math teacher saw I was struggling on tests, so she studied with me and allowed me to retake exams. Her persistence also helped me decide I needed to concentrate on studying to be successful in college."
Once Garcia graduated from MC, the Bill Pace Cogdell Scholarship continued as he transferred and pursued a bachelor's degree in criminal justice at the University of Texas of the Permian Basin (UTPB). The folks at the Cogdell Learning Center even helped him while he was attending UTPB.
"The staff at the Cogdell Learning Center went above and beyond," explained Garcia. "I took a lot of online classes from partner universities for my bachelor's degree. When I went to the campus bookstore to use my textbook voucher I found they did not sell the books there. The MC staff at the Cogdell Learning Center made some phone calls, explained my situation and got me a reimbursement check instead of a textbook voucher. Their care and interest in my situation really speaks to the spirit of this scholarship and the Cogdell Learning Center."
Garcia went on to graduate from the Midland Police Academy.
"I went on patrol for four years, now I am a detective," said Garcia. "I love my job. I get to help people and make a difference in my community. The Bill Pace Cogdell Scholarship singlehandedly helped me get here. I am honored to be able to say I received a scholarship that completely paid for college. I tell everyone if you get the Bill Pace Cogdell Scholarship at MC, it is the best thing for your future."
MC Public Information Office

The Public Information Office is responsible for the overall development of messages that help promote Midland College. This includes preparing and distributing news releases, news advisories and public service announcements for radio, television, newspapers and social media.

Allison Fine Arts Building, Room 141

Midland College, 3600 N. Garfield

Midland, Texas 79705

(432) 685-4556

Welcome

Midland College has many programs and options for our students. If you are investigating the opportunities we offer, our Welcome Center is the perfect place to receive general information.