Midland College dual credit students win state contestsApril 28, 2022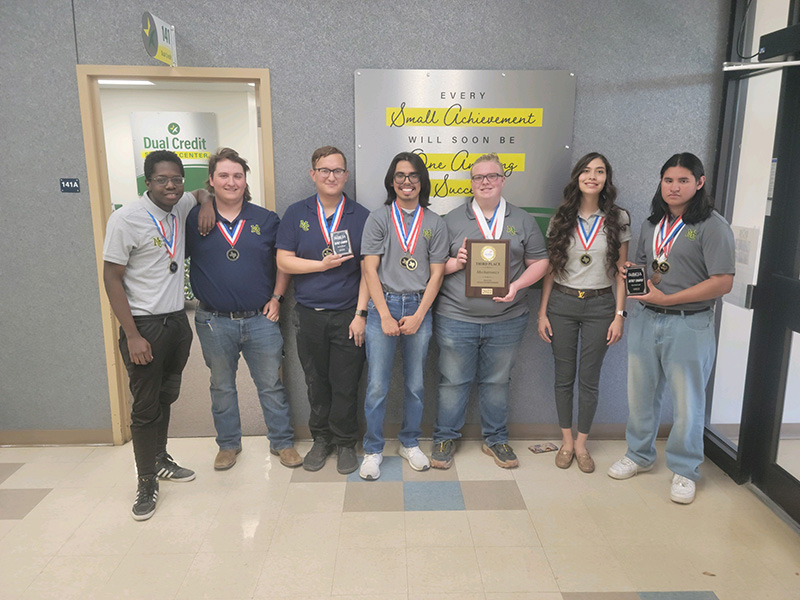 On March 31-April 2, dual credit students enrolled in Midland College (MC) Diesel, Automotive and Energy Technology programs competed in several contests at the SKILLS USA State Competition in Corpus Christi, TX.
Midland High School (MHS) student Colin Koonce won the gold medal (1st place) and Rhett Pierce, also from MHS, won the bronze medal (3rd place) in the Automotive Suspension and Steering Technical test. MHS student Cayden Ruiz won the silver medal (2nd place) in Diesel Equipment Technology. Energy Technology students Jayden Villa (Midland High School) and Jayson Watkins (Legacy High School) competed in the team Mechatronics competition and won a bronze medal (3rd place).
"We are so proud of these outstanding students," Erick Gutierrez, MC Automotive/ Diesel associate professor, said. "Throughout this academic year, they stayed focused on their training and challenged themselves to learn as much as they could. We congratulate them on winning these competitions."
Photo: MC 2022 SKILLS USA State competitors, from left to right: Joshua Bygrave, Colton Golden, Armando Nieto, Pedro Rodriguez, Jayson Watkins, Ariana Flores and Jayden Villa
MC Office of Institutional Advancement

Pevehouse Administration Building, Room 141

Midland College, 3600 N. Garfield

Midland, Texas 79705

(432) 685-4556

Welcome

Midland College has many programs and options for our students. If you are investigating the opportunities we offer, our Welcome Center is the perfect place to receive general information.