Midland College Phi Theta Kappa (PTK) Honor Society continues to receive awardsApril 20, 2022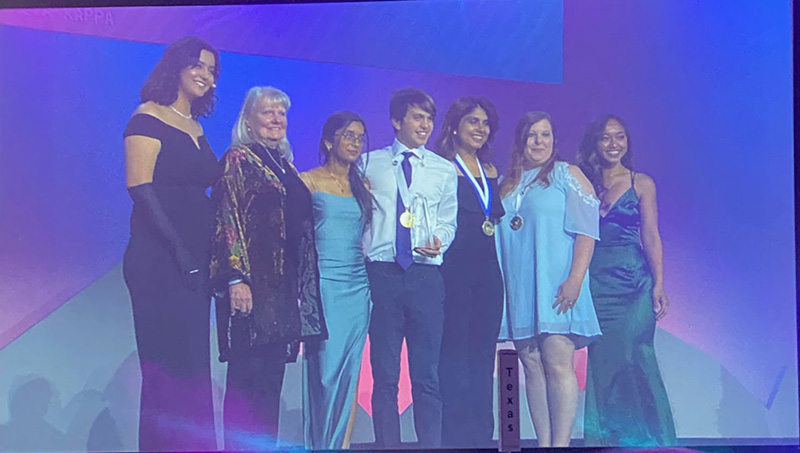 On the heels of receiving numerous regional awards, on Saturday, April 9, the Midland College Phi Theta Kappa (PTK) Honor Society received recognition as one of the top 30 PTK chapters throughout the world at the PTK International Catalyst conference held at the Gaylord Rockies Resort and Convention Center in Denver, CO.
"It was an honor to receive the award for top 30 chapters since this is the first time Midland College PTK has received it," Henna Patel, Midland College student and MC chapter president, said. "When the award was announced, we were all very surprised and excited. We have been working hard since last summer putting together the College project and Honors in Action project. So, being able to receive this award really put into perspective how much we had done."
Chapter members choose the College and Honors in Action projects each year in the summer and then work on the projects throughout the school year. MC chapter's College project for the 2021-2022 academic year was to coordinate and produce a special campus podcast—"PTK Perspectives," which included topics of interest to college students. This is Midland College's first podcast. The chapter's Honors in Action project was "Expressions of Truth," which included videos of MC employees and students telling their "legacy" stories—how education has played a part in their lives and those of their families. Midland College PTK chapter advisor is Dr. Terry Gilmour, Government professor and Honors Program director.
Phi Theta Kappa is headquartered in Jackson, Mississippi. The international college honor society has more than 3.5 million members in nearly 1,300 chapters in 10 nations. The mission of Phi Theta Kappa is to recognize high academic achievement of college students and to provide opportunities for them to grow as scholars and leaders.
Photo: Midland College Phi Theta Kappa Chapter Officers and Advisor receiving award at PTK International Catalyst in Denver, CO on April 9. From left to right, Henna Patel; Dr. Terry Gilmour, MC Phi Theta Kappa Chapter advisor; Ana Chilcoat; Caleb Golliandeau; Zada Kadir; Elizabeth Whitten and Shaquila Sarapao.
MC Office of Institutional Advancement

Pevehouse Administration Building, Room 141

Midland College, 3600 N. Garfield

Midland, Texas 79705

(432) 685-4556

Welcome

Midland College has many programs and options for our students. If you are investigating the opportunities we offer, our Welcome Center is the perfect place to receive general information.