Permian Basin AHEC
The Permian Basin Area Health Education Center (AHEC) Program is a coordinated effort between the Texas Tech University Health Sciences Center (TTUHSC), Midland College, health care providers, communities and counties across West Texas.

The collaborative program focuses on developing the health care providers of the future as well as supporting current health professionals in West Texas.

The Permian Basin AHEC serves 27 counties. Program services are carried out at the local and regional level through the Area Health Education Center.

One of the key components of the Permian Basin AHEC is that it is community-based to better meet the local health care education and health professional support needs.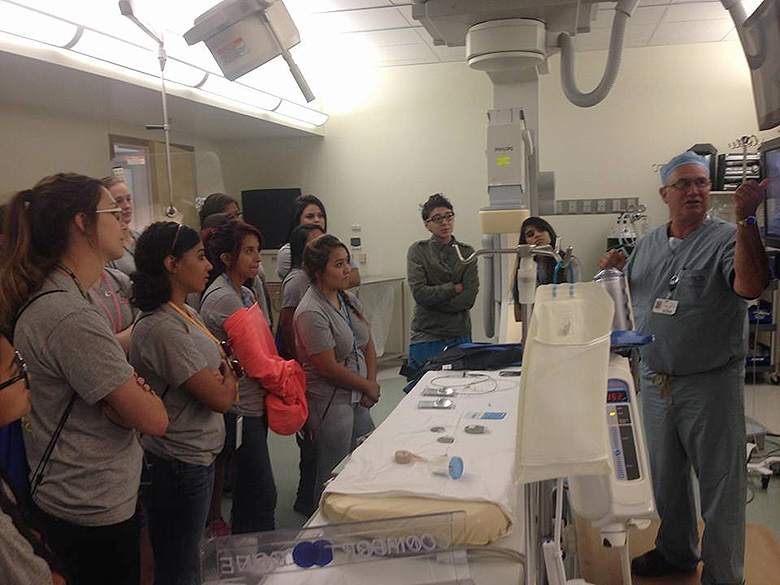 Program Details
The mission of the West Texas Area Health Education Center (AHEC) is to address the health care provider shortage and improve health care access in West Texas through education and development of the health care workforce.
To accomplish its mission, the West Texas AHEC focuses on the following strategies:
Introduce youth, K-12, to health careers
Support rural clinical training for students who are in the health professions
Provide practice support to existing health care professionals
Promote healthy living
Permian Basin AHEC introduces students, to career opportunities in health care as well as provides information on a variety of health-related topics. The program strives to motivate young people in rural and under-served areas to choose a career in the health care field.
Health Careers Promotion activities include:
Providing classroom presentations on health careers
H.O.T. Jobs materials
Participating at career fairs and health fairs
Helping communities develop "Youth Health Service Corps" programs for high school students
Serving as a resource for financial aid and scholarship information
Organizing health care-related field trips
Sponsoring health career-related summer camps
Working with colleges and universities to provide resources for college students to foster their health career interests and professional development. The primary mechanism for this activity is through a student organization format.
Recruit. Retain. Relationship.
Rural communities offer real advantages in health care practice opportunities.
The West Texas AHEC is committed to providing support to health care practitioners in rural and under-served areas. We assist communities to enhance their capacity to attract new health care professional and retain them once they are in place. We also link health care professionals, especially new graduates, to opportunities in rural communities.
As part of our retention efforts, we assist health care professionals with access to continuing education (CE) and professional development opportunities. We also provide career information to adults
Support activities include:
Surveying health care professionals and facilities to determine continuing education needs
Organizing continuing education programs to meet identified needs
Promoting and assisting with the continuing education events sponsored by our affiliated partners
Providing information to rural and under-served health professionals about available resources
Hosting HealthMATCH, a regional recruitment forum for rural communities and primary care medical residents and mid-level health professions students at TTUHSC
Promoting HealthFIND, the recruitment fair held by the state Office of Rural Community Affairs
Each Area Health Education Center works with various providers of medical continuing education (CE) in their region to set up CE events that are reasonably priced and accessible to rural health care professionals.
For more information about events in your region, contact the Community-based Education Coordinator. If you would like to see the AHEC help bring a CE event to your community, please contact the Coordinator.
For communities . . . an opportunity to promote your town
for students . . . an opportunity to build relationships that lead to future practice options.
The goal of Community-based Education is to provide health professions students a real-life experience in a community setting that contributes to the development of general knowledge, skills and attitudes.
West Texas AHEC provides opportunities for students in medical, nurse practitioner, physician assistant, nursing and dentistry programs. Students in these health profession programs are placed throughout West Texas.
The West Texas AHEC works with universities and health professions training programs from across the state—including Baylor College of Medicine, Texas Tech University Health Sciences Center, University of Texas Medical Branch, and University of North Texas Health Science Center, just to name a few.
Each placement provides many situations for the students to develop their skills and knowledge under the direction of practicing community health professionals.
Students spend time in a community clinical setting and have opportunity to interface with multiple health disciplines. Their experiences include but are not limited to observation and instruction, involvement in performing history and physical examinations, developing diagnosis and treatment plans, and in applying office procedures and treatments.
West Texas AHEC affords a vital link between higher education institutions focused on health professions and community preceptors. The AHEC recruits preceptors, assists students with selecting the community-based experience that meets their needs, and assists with student housing when necessary.
| | |
| --- | --- |
| | |
Apply to MC Now
Thank you for choosing Midland College! If you are here to collect a few credits, take courses to transfer, or here to start a new career, we welcome you.