Midland College Golfer From Scotland Leads Chaps on the Links and In the ClassroomOctober 25, 2018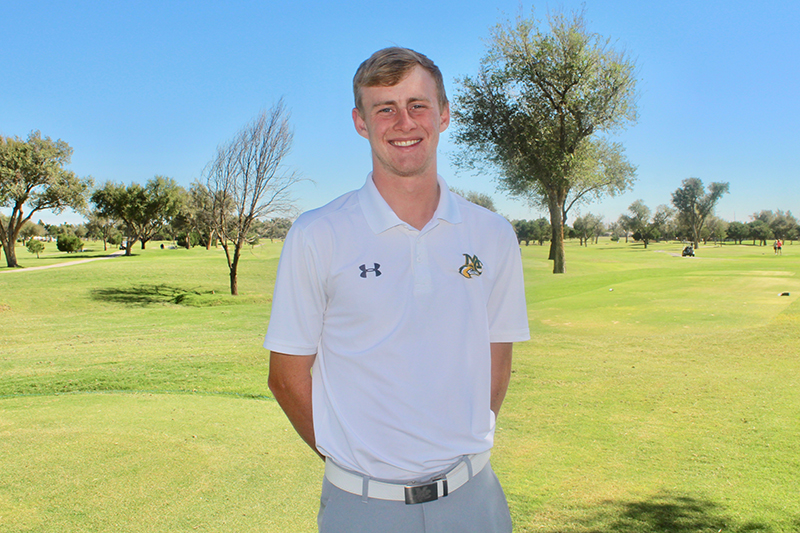 Golf great Jack Nicklaus once said, "A kid grows up a lot faster on the golf course."
Midland College (MC) student and golfer Callum Bruce can attest to that. He started playing golf when he was just three years old.
"I always wanted to be a golfer when I grew up; I was never going to be anything else as far as I can remember," recalled Bruce. "My granddad got my dad interested in golf right after as I was born. When I turned three they started taking me out for a bit of fun. Once I started to beat them, they stopped playing with me."
Bruce is from Banff, Scotland, near Aberdeen. He is in his sophomore year at Midland College (MC) studying Business Administration. Since MC has a history of successful golfers from Scotland, he did his research before attending here.
"Everyone had positive things to say about MC athletics and academics, so that is why I came such a long way for my degree," said Bruce. "It has definitely been the right choice."
Bruce's favorite subject is history. He says he is proud of his history grades.
"One of my greatest academic accomplishments so far has been getting A's in my history classes," said Bruce. "I like history, but it is quite hard."
History professor Dr. Jaime Aguila says Bruce sets a great example.
"Callum is a wonderful young man and I expect him to experience continued success throughout his life," said Aguila. "I believe he represents all that MC seeks to achieve, especially on an international scale. His presence demonstrates MC's long reach as an institution of higher learning. His personal success in the classroom and on the golf course make him a worthy role model for all of us."
Bruce has learned to persevere academically from his time spent on the fairways.
"If I make a bad shot, I keep thinking, 'it only takes one good shot to get back from it,'" said Bruce. "You do not want to make one bad shot into two bad shots. Similarly, you do not want to make one bad grade into two bad grades."
Bruce's busy schedule does not leave room to procrastinate on his studies. He estimates he played more than 100 rounds of golf last year. The MC golf team practices three hours per day Monday through Saturday.
"You have to set aside times of the day to do homework," explained Bruce. "You have to be aware that if you focus too much on golf, your studies may suffer."
The team as a whole seems to have struck the perfect balance. Their discipline earned them the 2017-2018 All-Academic Team Award for Academic Excellence. The award recognizes that the whole team maintained above a 3.0 GPA.
"Only four teams in NJCAA Division 1 earned this award," said Walt Williams, golf coach at MC. "I am proud of the boys work on and off the course."
Bruce and the team are excelling this fall. So far, Callum has led his team to a first-place tie at the New Mexico Military Institute Bronco Invitational, a second place finish at the Andrews College-AM and a come-back win at the High Country Shootout.
Bruce has also won prestigious individual accolades like the 2018 Jack Nicklaus National Player of the Year for the National Junior College Athletic Association division.
"I was quite surprised honestly," admitted Bruce. "I did not know the award existed until about midway through the season and even then I tried not to think about it. I told myself I was just going to play my best."
Bruce has played his best on the front nine, the back nine and in the classroom.
"Before you take a swing, you have to be committed to the shot you are about to play; otherwise, there is no point in playing it," said Bruce. "I am committed to my studies at MC, and it is easy to be because of the supportive faculty and staff. My advice for incoming MC students is to enjoy the experience and take it seriously."
To see the Chap's full list of fall 2018 tournaments and to stay up-to-date on all MC golf news visit the Chaps golf webpage.
MC Public Information Office

The Public Information Office is responsible for the overall development of messages that help promote Midland College. This includes preparing and distributing news releases, news advisories and public service announcements for radio, television, newspapers and social media.

Allison Fine Arts Building, Room 141

Midland College, 3600 N. Garfield

Midland, Texas 79705

(432) 685-4556

Welcome

Midland College has many programs and options for our students. If you are investigating the opportunities we offer, our Welcome Center is the perfect place to receive general information.