Navy veteran, MC grad now serving students as financial aid advisorMarch 09, 2023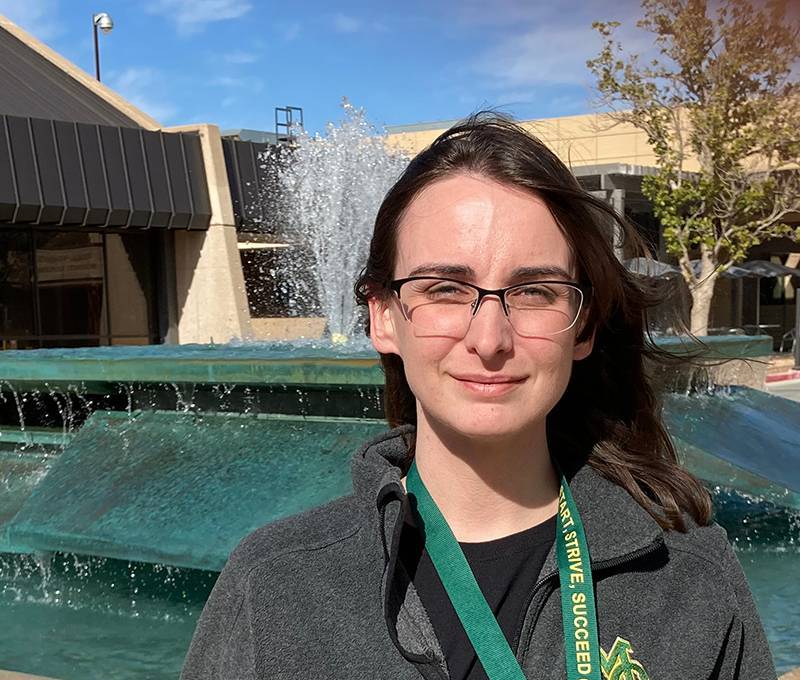 In 2011, Brittany Brown was serving in the U.S. Navy on the USS. Bataan in Norfolk, VA when the ship received orders to deploy during the Arab Spring protests and subsequent humanitarian crisis and political-military instability occurring in Libya. She was 21 years old and had been in the Navy for two years.
"I graduated from Midland High School in 2007 and really didn't know what I wanted to do with my life. So, I worked at HEB as a cashier," Brown explained. "Then, in 2009, I enlisted in the Navy for two reasons: I wanted to travel, and I knew that eventually I would be able to go to college on the GI Bill. I was able to do both those things.
"Typical naval deployments are 7-8 months; however, we were deployed for 11 months. I spent time in Spain, Sicily, Greece, Dubai and Jordan. Greece was my favorite place. It is beautiful, and the people are very friendly. I also enjoyed the archaeological history of Petra in southern Jordan."
During her time in the Navy, Brown served as a welder and plumber—not a traditional job for a female. However, she said that she was one of three women serving in the same position on the Bataan.
"Because we were female, we were assigned more of the plumbing jobs than the welding jobs," Brown said. "I'm not sure if that was because they thought the welding would be too strenuous for women, or if it was because they felt the men would do a better job. At any rate, we made it work."
Also while in the Navy, she met and married her now ex-husband. She received an honorable discharge in 2013 before her son Devin was born. Then, in 2014, Brown started taking courses at Midland College financed by the GI Bill.
"Since I had welding experience but not any formal education except the training I received while in the Navy, I decided to major in Welding," Brown said. "During the time that I was in school, my daughter Josephine was born, so there were a few semesters that I had to 'stop out' and not take any courses because caring for a newborn and chasing after a toddler were pretty time consuming! We were also traveling between California and Texas due to my ex-husband's active-duty service, so taking classes wasn't feasible."
In 2020, Brown graduated from Midland College (MC) with an Associate of Applied Science degree, and then she continued her education at MC. Last May, she graduated a second time from Midland College, this time with a bachelor's degree in Organizational Management.
"I find it very unique that Brittany has a degree in Welding and then decided to continue her studies to receive a baccalaureate degree in Organizational Management," Dr. William Christopher Brown, MC department chair of English, said. "Most students who pursue the college's Organizational Management bachelor's degree have received associate degrees in a business-related field. I taught her in Technical & Business Writing and remember that she was smart and worked hard to excel. Dan Ledbetter [MC Welding instructor] was also impressed with her."
Last July, Brown began working at Midland College as a Financial Aid Advisor. In this position she assists students who are applying for federal financial aid, and she processes student reports.
"This job is completely different from my navy assignments," she said. "However, I find it very fulfilling, and I have great coworkers. The job makes me feel good."
In her spare time, Brown enjoys watching television, reading and playing games with her children, who are now ages 9 and 7. She also occasionally welds for fun.
"I like the art side of welding," Brown said. "In fact, I recently made some artwork from my grandfather's old horseshoes."
She still enjoys traveling, but her recent travels are now closer to home—mainly camping and enjoying the lakes in the Austin area. Brown said that one day she would like to travel abroad again. Costa Rica is on the list of countries she would like to visit.
MC Office of Institutional Advancement

Pevehouse Administration Building, Room 141

Midland College, 3600 N. Garfield

Midland, Texas 79705

(432) 685-4556

Welcome

Midland College has many programs and options for our students. If you are investigating the opportunities we offer, our Welcome Center is the perfect place to receive general information.