Open Online Tuesday, March 31, 2020
All Day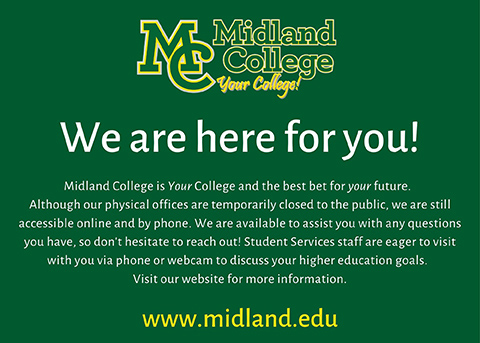 Midland College (MC) continues to find ways to provide a safe and healthy environment while allowing students to finish the spring semester amidst the COVID-19 pandemic. 
All face to face lectures and science labs will be held via Canvas and other online tools.  Faculty will notify students of delivery method. 
Most hands-on skills training labs will be suspended through March 27.  Instructors are attempting to contact students regarding these labs.  Students should check their Midland College student email periodically this weekend.  Students who have questions or concerns about a particular class and/or lab are encouraged to contact their instructor(s). 
Midland College is open for business in an online and virtual environment.  The College welcomes communication via email, webcam and social media. 
Updates will also be posted on the Midland College website (www.midland.edu).
Location

All MC locations
3600 N. Garfield
Midland, TX



Contact

Rebecca Bell
(432)685-4556
rbell@midland.edu

MAP
Apply to MC Now
Thank you for choosing Midland College! If you are here to collect a few credits, take courses to transfer, or here to start a new career, we welcome you.